Du customers always enjoy affordable internet packages same Du monthly data package 25 AED. People looking for such types of packages which are not available on local places and sites. Get Du's monthly data package for 25 AED, and enjoy free access to social apps like WhatsApp, Viber, and Botim, along with 25 flexi calling minutes.
All new and existing prepaid customers can subscribe to this package by dialling *135*250#. This subscription is valid for one month (No renewal) and you have to resubscribe again using the same method to activate the package.
Du Monthly Data Package 25 AED
Customers are eligible to buy this package for only AED 25 per month which is the cheapest internet plan. Include this, users get non-stop calling to call on national and international numbers. Du Provides unlimited non-stop socializing to its users who activate this package.
Prices can be changed according to user tariff and SIM card. More information is available here:
Data: Non-Stop Chat (Viber and WhatsApp)
Price: AED 25 per month
Calls: 35 Flexi minutes
Validity: 28 Days
Auto-Renewal: No
How to activate Du Monthly Data Offer 25 AED?
To subscribe to this package simply dial USSD code *135*250#. This package is also available on the Du UAE app. You can also dial *135# directly and choose this package in the data packages section.
Deactivation:
The package will automatically expire and unsubscribe after a month. You do not need to dial any USSD code to unsub this. If it is important to unsubscribe from the Du 25 AED Monthly Data pack, you can use the Du UAE app and go to the account > Active services > Unsubscribe.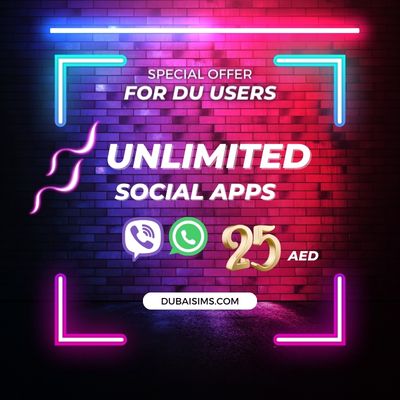 Many people activate and use this package, and the reason for its value is the usage of unlimited social apps. Many people come to Dubai for work, which requires them to communicate with their loved ones. In such situations, individuals look for packages with apps like WhatsApp, Botim, and Viber. People widely use it because of its low cost.
Du provides its users with all kinds of facilities so that they can benefit from them. Therefore, one can observe an increase in the number of users utilizing it. After activating the monthly 35 dirhams package, the user can easily use WhatsApp and Viber without any limits.