If we have an unknown Etisalat SIM, we try to find out the SIM number and the name of its owner. Finding the SIM number is very easy, but it can be a challenging task for new users. If you have a newly purchased Etisalat SIM but don't know its number, then with the help of this post, you will learn all about it.
There are many ways to check a SIM number, one of the easiest is to call another number from that SIM. The number will appear in front of you. If there is no balance in the Etisalat SIM, you can find its number and owner's name by using more methods.
First of all, we need to know whose SIM number you want to know. If the SIM is your own or you are running a SIM that is very old, but you don't know its number or owner, you can use any of the methods below. If the SIM is not yours and you got it from somewhere, I would not recommend you insert it into your mobile phone and use it. This can be dangerous for you.
How to Check Etisalat Number and Owner Name
This method to find an Etisalat SIM number is very easy and common. You may know this method, but we will give you complete information about it. To check your Etisalat SIM number, you have to dial *101# from your SIM, after which a menu will appear on your mobile screen. There will be many options, but you have to reply to the first one, which is called Account Management.
After going to this option, you can find out the number of the SIM, its plan or package, the name of the owner, etc. Note that there is no charge, but this function works only on active SIM cards and not on blocked SIM cards. Further, you can find out your Etisalat SIM number and owner by following the procedure given below.
Dial *101# from your mobile phone
In a short time, many different options will appear on your mobile screen.
You have to reply by writing 1, which will be named "Account Management" Section
After replying, another option will appear in front of you
Now you have to reply with 3, which will be called "Account Information."
Now you can check and know your number after replying again by writing 3. While you can find the name of the owner of the number by writing 2.
This is a very useful method that every Etisalat SIM holder should know. There are many other methods here as well which we will tell you about next. If you are having difficulty using this method, you can also check out the other methods given below.
Etisalat Number Check Code
| | |
| --- | --- |
| Network | Etisalat UAE |
| Number Check Code | Dial *101*1*3*3# |
Dial *101# or *101*1*3*3# directly to know your Etisalat SIM number. This method will work on all prepaid, postpaid and Data SIM cards.
Check Etisalat SIM Number by Missed Call
As I told you above you can easily find Etisalat SIM number or any other SIM number by calling. For this method you must have a balance in your SIM as you need to have free credits (which are used for calls) and balance to make calls.
Without it you cannot find the SIM number. You can also try this method without balance, but it will not work.
Try calling any of your friends, relatives, or any other number from your mobile phone.
The company sends a free missed call in case of no balance, which if it happens to you, you will get the number.
In case of having enough balance, when you call another number, that number will appear.
How to Check Etisalat Number Owner?
Finding the owner of an Etisalat SIM is not difficult but can be challenging. New users who are using SIM cards in UAE for the first time or using Etisalat SIM for the first time can find out the owner's name of any SIM by following this method.
The SIM card must be inserted in your mobile phone after which this method will work.
First, you have to dial *248# from your mobile phone.
After dialing this code, your SIM number, registration date, and owner name will appear.
This method is completely free and many times I have used this method to find out the name of the SIM owner.
Apart from this, you can also find the SIM number and owner name by dialing *101#. Remember that these codes may expire over time, and you may also get the option to invalidate codes.
Call Etisalat Helpline
You can also call at helpline number 101 or +971 400444101 and ask customer service representative to provide you details of owner name.
Customer service representatives will refuse to give you the information, but if forced, they can only tell you the name of the SIM owner. If you have an internet, you can also get complete information from the TDRA website.
We have already published a post about this which is about checking the number of SIM cards and spare SIMs. You also know how to check Etisalat number status using this method.
Use the Etisalat App
If you have an Etisalat SIM card but don't know its owner, you can also find it using the app. This is a much simpler method that I will recommend to you.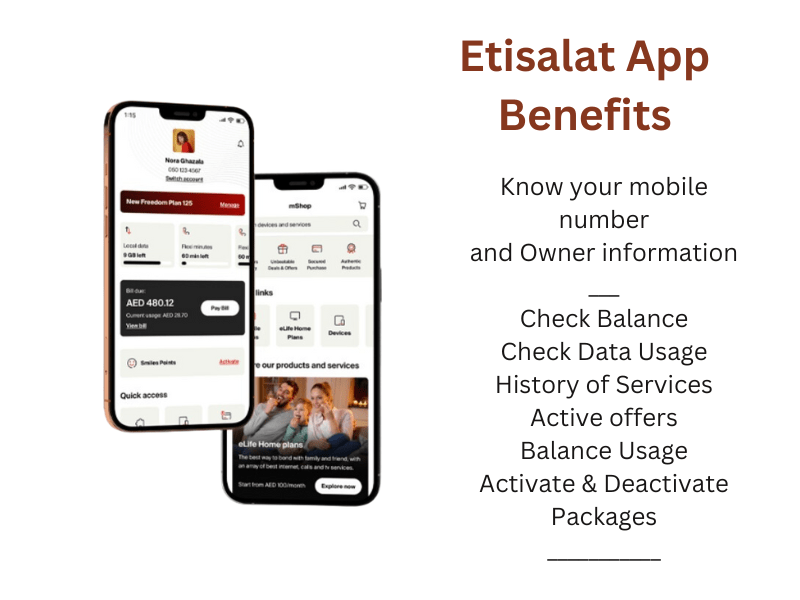 All you have to do is install Etisalat app in your mobile phone and sign up on it by giving your mobile number. After setting the password etc you can login it after which sim owner name will be displayed in front.
You can also check Etisalat SIM Expiry Date and get information about active plans and balance on it with the help of this app.
You can use any given method to check Etisalat number and Owner according to your preferences. All the methods are 100% working and you can use them without any fee. Always check the SIM number of your own SIM cards not other people. If you need more information related Etiaslat or SIM cards in UAE, you can browse more articles on Dubaisims.com.