In these Digital days, Security is most important for all who use Digital services. If you live in the UAE and have an Emirates ID, you must know about SIM Card checking methods. You must know which Sims and connections are running under your name so that you can avoid any kind of fraud or cheating. In this post, we will explain: How to Check How Many SIMs are Registered on My Emirates ID of Etisalat, DU and Virgin.
By following the given method, you can easily check the details of registered prepaid, postpaid, fixed-line, and broadband services in your name with any telecom operator. You will get the registered SIM number on your Emirates ID for free.
How to Find Mobile Numbers Registered with your Emirates ID using Hesbati
With the help of Hesbati, you can check the SIM card information, number, etc. on your Emirates ID absolutely free. There is no need to pay a fee. You just have to follow this method, after which you will be able to know your Etisalat, DU, and any company records.
According to the TDRA, every UAE ID holder can use this service and also find out about the telecom connections that have been activated without his consent or knowledge. You can use this guide to check the registered numbers on your Emirates ID.
1. Open the TDRA website
Open the TDRA website https://tdra.gov.ae/en/ from your desktop or mobile. Login to your Account by clicking on https://digital.tdra.gov.ae/.
If you have not had an account, you can create one by clicking on Sign in with UAE Pass > under Login Form and Create an Account. You can create a new account using your Emirates ID and a valid mobile number (Registered on your own Emirates ID).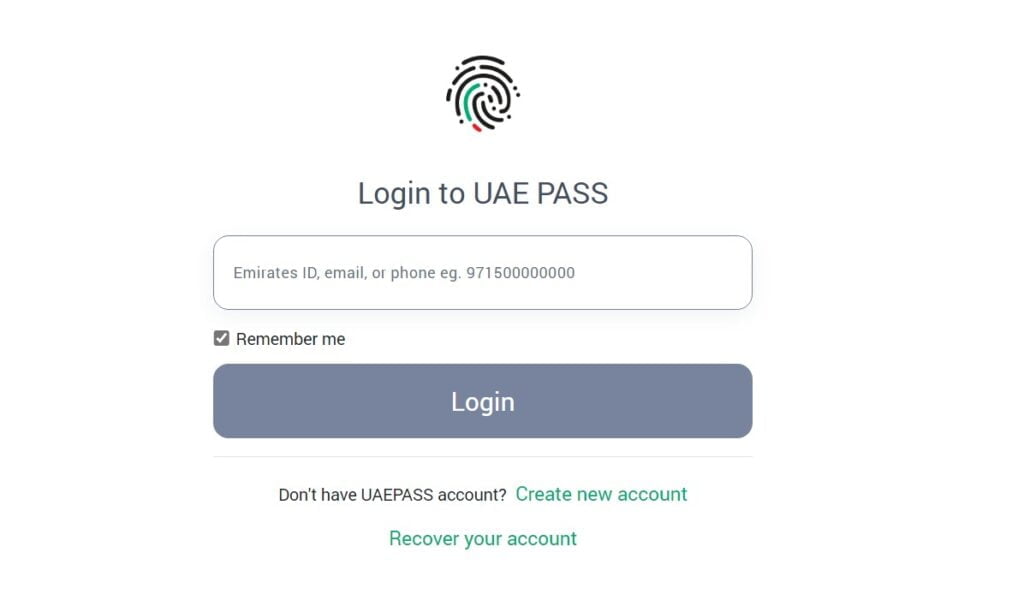 2. Open Our Initiatives section
Scroll down the page and look for the "Our Initiatives" section Now, click on the Read More link or visit this link as shown in the screenshot.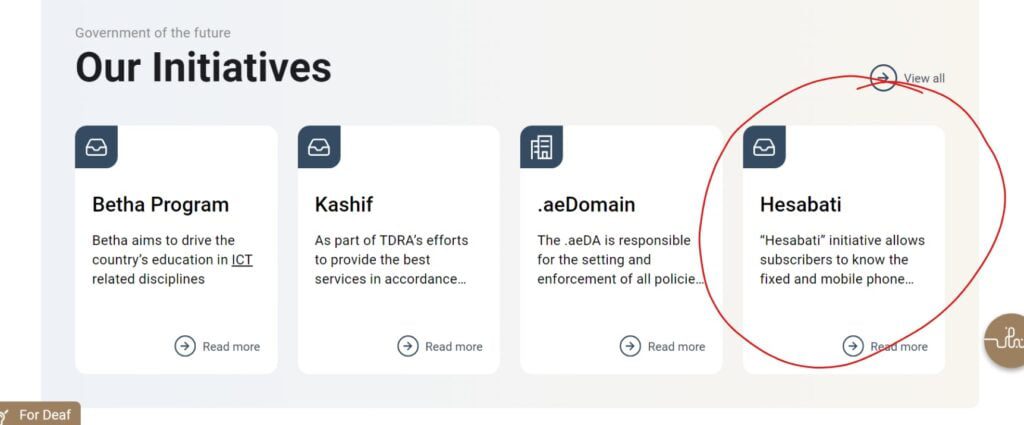 3. Review the Active numbers
By visiting the Hesabati section, the list of all registered mobile numbers for all networks (Etisalat, DU, and Virgin) will appear in your account dashboard. You can also see the following information on all active numbers:
Mobile number
Account Type (Prepaid or Postpaid)
Mobile Number Subscription plan and expiration date
If there is a suspicious or known number active, it means an unauthorized SIM is under your name. You can report all extra and unknown numbers by clicking on the complain button under the mobile number. After doing this, you will receive a reference number for your complaint through SMS. You can see the progress of this complaint by opening the Hesabati.
How to Register a Complaint of an Unknown Mobile Number Registered on Emirates ID
You can register a complaint by calling the TDRA center or online using Hesabati. Here are more ways that you can use it:
Call the TDRA call center at 800-12 to file a complaint.
Etisalat: 800-101
DU: 800-155
Virgin: Use the Virgin app to block any unknown number registered on your Emirates ID.
In case of any wrongdoing, you can call your company's helpline. Keep track of all registered SIM numbers on your Emirates ID to avoid fraud. If you don't know the registered number on your Emirates ID, you can read our guide on how to change your mobile number in Emirates ID.
Is there any Code to Check if my SIM card is registered under my name
Telecom companies notify their customers through a message when a new number is registered. You can find information about any network's SIM in the company's app. Like DU, Etisalat, or Virgin, they all have apps, and you can access all account information by logging into them. You can also call your network helpline to block unknown and inactive SIMs in a few seconds.
Etisalat: 101
DU: 155
Virgin Mobile: 150
The Company does not provide you with any codes or other methods that you can use to disable or block a SIM card in the UAE. It is an offence if you use a SIM in someone else's name or give a SIM registered in your name to someone else to use. Doing so can cause you a lot of damage and trouble. Finally, you can easily check how many SIM cards are registered under my Emirates ID.